Protests after the death of George Floyd in Minneapolis police custody has spread to other areas across the United States including Charlotte NC.
Have you ever heard the saying " The revolution will be televised? " The origin is derived from The poem "The Revolution Will Not Be Televised" . Matthew Daneman's characterization of rejection seriously understates the beliefs, the desires and the anger that were operating at that time believing that the U.S. would have a revolution – must have a revolution – because manifest injustices simply could not be allowed to continue. For black America there was much more anger, and the need for revolution was much more intensely felt. So, with the Black population of the U.S. as the primary audience for "The Revolution Will Not Be Televised"
The thought is that they would not see the revolution on television, because they would be making the revolution, themselves, in the streets.
The Beverly Hillbillies, etc. were objects of irrelevance and disdain – even if they were on TV, there would be no reason for Black Americans to watch them, much less care about them.
And if the revolutionaries succeeded, they would take out (destroy) the traditional TV networks (not to mention the police and every other unjust aspect of U.S. society), meaning that the (traditional) networks would be incapable of televising the revolution once it arrived. ( Source: Huff Post)
The revolution against police brutality and systemic racism has in many minds has already begun.
Charlotte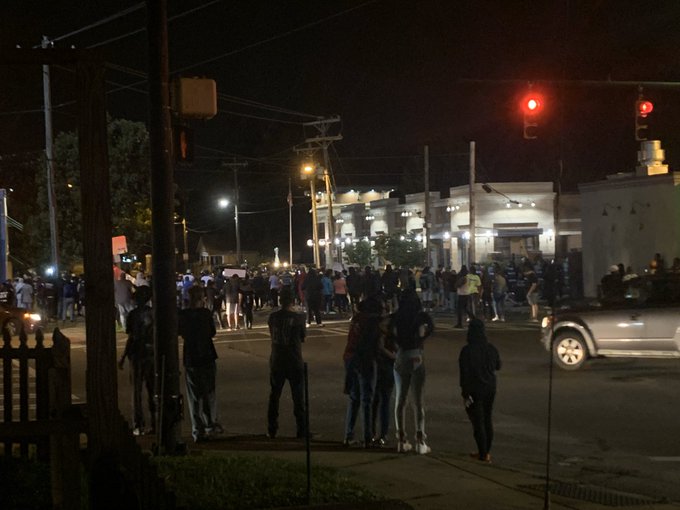 Hundreds of protesters gathered Friday evening outside the Metro division police station on Beatties Ford Road.
The protest is over the death of 46-year-old George Floyd, a black man who died at the hands of the Minneapolis police.
Atlanta
In Atlanta, protesters confronted police outside CNN headquarters in downtown late in the day. Demonstrators blocked traffic in downtown Denver and Columbus, Ohio. Brackett wore a blue mask and sat with her partner and a friend. She was less concerned about the threat from the coronavirus.
"We risk our lives going to the grocery store, going to get gas," she said. "This is more important than all of that."
Denver
Denver Mayor Michael Hancock called for calm and unity Friday after the first of several planned city protests over George Floyd's death turned violent, declaring, "Let not the story be about the riots and protests. Let's keep the focus on the life that was lost."
"I can tell you not to go out and demonstrate but the reality is it's going to happen," Hancock said at a news briefing, stressing he shared outrage over what he's called the "senseless and tragic murder" of Floyd in Minneapolis.
New York City
Demonstrators took to New York City streets for a second day in protest of the death of George Floyd.
"It's my duty to be out here," said Brianna Petrisko, among those at Foley Square in lower Manhattan, most wearing masks. The protest took place despite coronavirus prohibitions on large gatherings. The demonstrators were gathered in the square, while gathered police stood across the street.
"Our country has a sickness," Petrisko said. "We have to be out here. This is the only way we're going to be heard.
Fontana, Calif.
The violence erupted Thursday night in Fontana as about 100 people moved up and down a thoroughfare and blocked traffic. Police say an unlawful assembly was declared and the crowd was ordered to disperse but some persisted.
Columbus, Ohio
The crowd of about 400 people entered into a standoff with Columbus police Thursday night, blocking the intersection of key streets in the Ohio capital for hours, the Columbus Dispatch reported.
Houston
On Friday, several thousand people attended a rally in front of city hall in Houston, where George Floyd grew up.
The crowed marched through downtown Houston to get to city hall, chanting "No justice, no peace" and "Say his name. George Floyd." Many held up signs that said, "I Can't Breathe" and "Justice For George."
One of those protesting Floyd's death was 19-year-old Jimmy Ohaz, who came from the nearby city of Richmond, Texas.
"My question is how many more, how many more? I just want to live in a future where we all live in harmony and we're not oppressed."
Petal, Miss.
A Mississippi mayor who sparked outrage when he said he "didn't see anything unreasonable" about the death of George Floyd in Minneapolis police custody is resisting calls to resign, including from his own town's board of aldermen.
In a follow-up tweet, the Republican directly referenced the Floyd case, saying he "didn't see anything unreasonable": "If you can say you can't breathe, you're breathing.
To show support for George Floyd please click the link to join.
Contact officials
Contact state and local leaders
Send a letters to Minneapolis Mayor Jacob Frey or Minnesota Gov. Tim Walz demanding justice, accountability and/or policing changes.
Make a call
Call County Attorney Mike Freeman at 612-348-5550 to demand a murder charge. Call Minnesota Attorney General Keith Ellison at 651-296-3353. Call Gov. Walz at 651-201-3400.
Sign a petition
Justice for George Floyd on change.org
This petition aims to "reach the attention of Mayor Jacob Frey and DA Mike Freeman to beg to have the officers involved in this disgusting situation fired and for charges to be filed immediately." As of May 29, 5,140,869 have signed. The goal is 6,000,000 signatures.
#JusticeforFloyd on act.colorofchange.org
This petition is to "demand the officers who killed George Floyd are charged with murder." So far, the petitions has garnered more than 1 million signatures. You can also sign by texting "Floyd" to 55156.