According to CNN,
Just two days before students were to begin summer break, a lone gunman entered a Texas elementary school and opened fire, killing 19 young children and two teachers in the deadliest school shooting in almost a decade.
Here's the latest on Tuesday's school shooting at Robb Elementary school in Uvalde, Texas:
The victims:
All of the victims have been identified, removed from the school and families notified, according to Lt. Chris Olivarez, spokesman for the Texas Department of Public Safety. All fatalities and injuries took place inside one classroom at Robb Elementary, according to Olivarez.
Eva Mireles, a fourth-grade teacher, is among those killed, her aunt, Lydia Martinez Delgado, told CNN. She had been an educator for 17 years and enjoyed running, hiking, biking and spending time with her family, according to her profile on the school district's website.
Xavier Lopez, a 10-year-old, has been identified as one of the victims, his mother Felicha Martinez confirmed to the Washington Post. "He was funny, never serious and his smile," Martinez told the paper.
Amerie Jo Garza, another 10-year-old, has been identified by her father as one of the children killed. Angel Garza posted to Facebook early Wednesday: "Thank you everyone for the prayers and help trying to find my baby. She's been found. My little love is now flying high with the angels above. Please don't take a second for granted. Hug your family. Tell them you love them. I love you Amerie Jo. Watch over your baby brother for me," said the father.
Uziyah Garcia, 10, was identified as one of the victims, his family confirmed to CNN. Garcia was in fourth grade, his aunt Nikki Cross told CNN. His uncle Mitch Renfro described Garcia as a "great kid. Full of life. Loved anything with wheels, and video games." Garcia leaves behind two sisters.
What happened:
The gunman, identified by officials as Salvador Ramos, is dead and is believed to have acted alone.
Ramos is believed to have shot his grandmother before heading to the elementary school. She was hospitalized in critical condition late Tuesday.
The suspect crashed his vehicle in a ditch near the school before attempting to enter the premises, Texas Department of Public Safety Sgt. Erick Estrada told CNN.
A motive for the shooting is unclear at this time, Estrada said.
Law enforcement engaged the suspect, but he was able to get inside the school and barricade himself inside a classroom, where he "started shooting," Estrada said.
As the shooting was taking place, officers were going around the school, breaking windows and trying to evacuate children and staff. They were then able to force entry into the classroom where the shooter was, said Lt. Chris Olivarez of the Texas Department of Public Safety.
Uvalde police and state troopers were first to arrive on scene following a 911 call and were met with gunfire. Two police officers received non-life-threatening injuries and are out of the hospital, according to Olivarez.
More than 20 US Customs and Border Protection agents responded to the scene and provided aid, a law enforcement official said.
At least one Border Patrol agent was wounded by gunfire from the shooter according to the US Department of Homeland Security, spokesperson Marsha Espinosa said.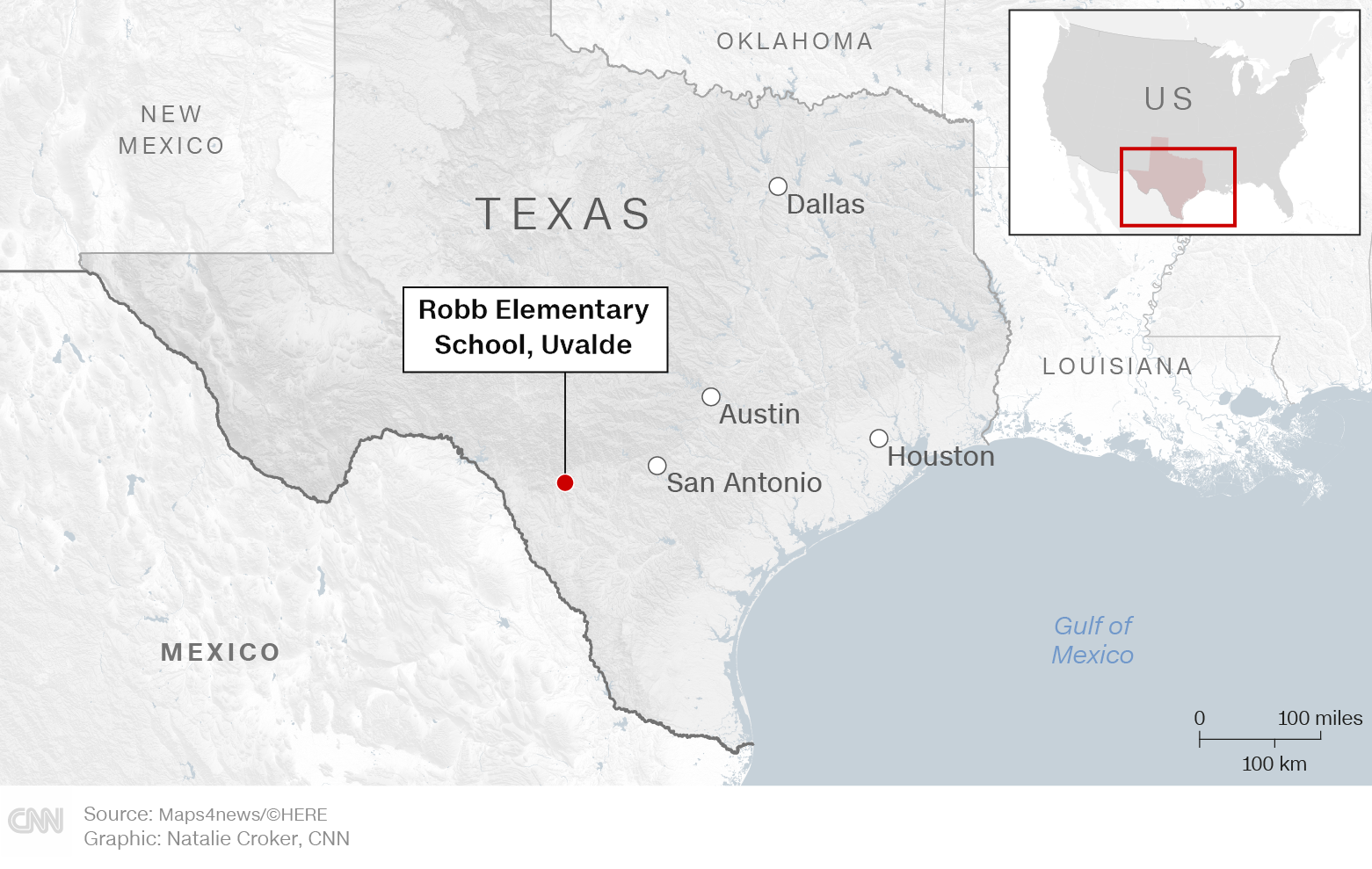 The suspect
The gunman has been identified by officials as 18-year-old Salvador Ramos from Uvalde.
Ramos had attended Uvalde High School, according to Texas Gov. Greg Abbott.
A photo of two AR-15-style rifles was posted to an Instagram account linked to the gunman three days before the shooting. The photo was posted as a story under the username "salv8dor_." Multiple classmates confirmed the account belonged to Ramos.
The two guns that investigators say were used in Tuesday's deadly school shooting were purchased by Ramos for his 18th birthday, according to the state senator who represents Uvalde. "Unfortunately, on his 18th birthday he bought those two assault rifles… It's the first thing he did when he turned 18," state senator Ronald Gutierrez told CNN's Erin Burnett, citing a briefing he received from Texas Rangers. Gutierrez said the guns were bought legally from a federally authorized dealer in the Uvalde area.
Ramos had stopped attending school regularly, one of his former classmates told CNN. "He barely came to school," said the friend, who did not wish to be identified. Ramos had recently sent him a picture of an AR-15, a backpack with rounds of ammunition and several gun magazines, the friend added.
A former classmate said Ramos "would get severely bullied and made fun of a lot" and was taunted by others for the clothes he wore and for his family's financial situation.
Ramos worked at a local Wendy's, a manager, Adrian Mendes, confirmed to CNN.
The city & the school:
Uvalde is about 90 miles west of San Antonio and just east of the US-Mexican border.
Robb Elementary includes second through fourth grades and had 535 students in the 2020-21 school year, state data shows. About 90% of its students are Hispanic, and about 81% are economically disadvantaged, according to the data.
Uvalde County had a population of about 25,000 in the 2020 census.
Mass shootings in the US:
As of Tuesday, the Gun Violence Archive reports at least 213 mass shootings in 2022. CNN and the archive define a mass shooting as one in which four or more people were injured or killed, not including the shooter.
This is at least the 30th shooting at a K-12 school in 2022, according to a CNN tally.
So far, there have been more mass shootings than days in 2022 — including the racist attack at a Buffalo, New York, grocery store a little over a week ago that left 10 dead.
Tuesday's massacre is the deadliest school shooting since 2012, when 26 children and adults were killed at Sandy Hook Elementary School in Connecticut.
6 hr 34 min ago
Uvalde shooting suspect's grandmother is still alive, Texas Department of Public Safety says
From CNN's Raja Razek
The grandmother of the Uvalde shooting suspect is still alive, Texas Department of Public Safety spokesperson Lt. Chris Olivarez told CNN.
The suspect, Salvador Ramos, is believed to have shot his grandmother before going to Robb Elementary School. She was hospitalized in critical condition late Tuesday.
"We're hoping, we're praying, that the grandmother does pull through because obviously, she is a key witness," Olivarez said.
He said authorities are trying to locate the suspect's grandfather.5 hr 59 min ago
Texas hospitals give updates on patients injured in Uvalde school shooting
From CNN's Amanda Watts
Tom Nordwick, the CEO of Uvalde Memorial Hospital, told CNN that of the 15 patients they received Tuesday from the shooting at Robb Elementary School, all have been either discharged or transferred to other hospitals.
On Wednesday morning, Nordwick said that "no patients remain in house from the incident yesterday."
In total,Uvalde Memorial Hospital received 15 patients, he said. Eleven of them were children, and four of those were transferred to other locations in San Antonio. Seven were discharged and sent home. Of the four adults received, one was transferred to a San Antonio hospital and three were discharged and sent home.
Nordwick said some of the patients received scatter or fragment wounds, though he couldn't say what caused the wounds. Those who were injured more significantly had to be transferred to San Antonio hospitals.
This morning, University Hospital San Antonio posted an update on its Facebook page providing an update on the four patients they have received from the Tuesday shooting:
A 66-year-old woman in serious condition
A 10-year-old girl in serious condition
A 10-year-old girl in good condition
A 9-year-old girl in good condition
All pediatric patients have their families with them, the hospital said in the post.
Brooke Army Medical Center tweeted Tuesday that it received two patients in critical condition. On Wednesday, BAMC said the two patients from the Robb Elementary School shooting remain in serious condition.
"Our thoughts and prayers are with the patients, families and the community of Uvalde," BAMC said.6 hr 46 min ago
10-year-old shooting victim Jose Flores Jr. was "full of energy," his father says
From CNN's Caroll Alvarado
Jose Flores Jr., 10, has been identified as one of the victims killed at Robb Elementary, his father Jose Flores Sr. told CNN.
Flores said his son was in the fourth grade and loved baseball and video games.
"He was always full of energy," Flores said. "Ready to play til the night."
Flores also described his son as an amazing kid and big brother to his two siblings.