According to Newsweek,
Kanye West's latest tirade—during which he looked to " see good " in Adolf Hitler—has many social media users saying the same thing: "J. Cole was right."
In J. Cole's single "False Prophets," released in December 2016, the artist takes aim at West and warns against idolizing celebs.
"When he tell us he a genius but it's clearer lately / It's been hard for him to look into the mirror lately," Cole raps at one point in the song. Although he doesn't name-check Ye per se, the latter has frequently labeled himself a "creative genius."
The song also includes the lines: "Ego in charge of every move, he's a star / And we can't look away due to the days that he caught our hearts."
Following West's rant on InfoWars Thursday, J. Cole's name began to trend on social media.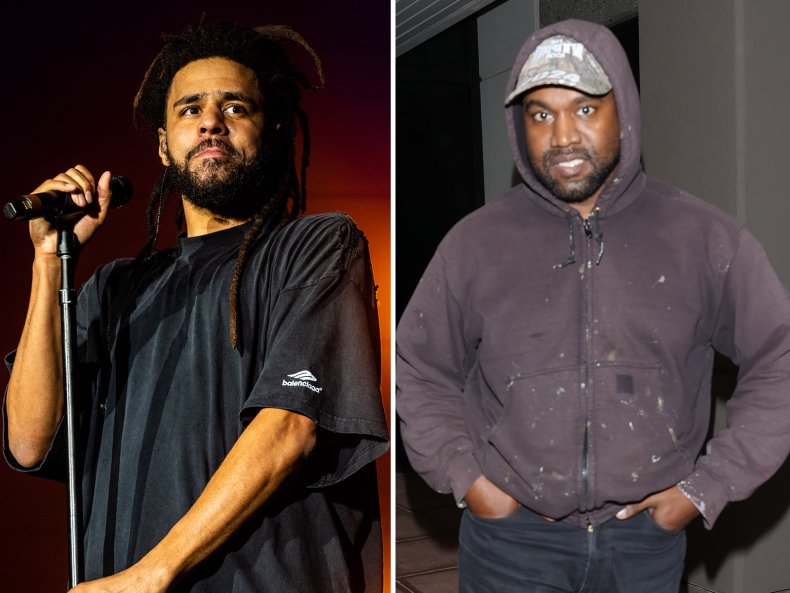 "Ill never forget when Jcole tried telling us about Kanye with this verse from 5 years ago," one person said in a tweet, along with a music video clip of the J. Cole verse.
"Kanye can do all that and I STILL don't ever wanna hear False Prophets by J Cole," another Twitter user joked.
To that, someone else replied: "J Cole was right tho," which received more than 1,900 likes by late Friday morning.
"J Cole wasn't lying when he said this bout Kanye," another Twitter user wrote, along with a clip from the same music video.
The rapper also took credit during Thursday's InfoWars appearance for making antisemitism "popular."
Articles have been written about J. Cole's apparent diss of West in "False Prophets." Hip-hop website Ambrosia For Heads published a piece on October 19 titled "J. Cole Told Us Who Kanye West Was 6 Years Ago But Many Ignored Him."
The post notes that in "False Prophets," Cole raps that at one point, West had been his "hero, maybe." He continues: "That's the reason why his fall from grace is hard to take."
Cole appears to explain in the song that no one around West has the guts "to say somethin' to contest him." He also criticizes the media and "yes-men" for "eggin' him on."