By Eric Levenson, Sarah Jorgensen, Polo Sandoval and Samantha Beech
According to CNN,
The 18-year-old suspected of opening fire at a Buffalo supermarket Saturday told authorities he was targeting the Black community, according to an official familiar with the investigation.The alleged gunman made disturbing statements describing his motive and state of mind following his arrest, the official said. The statements were clear and filled with hate toward the Black community. Investigators also uncovered other information from search warrants and other methods indicating the alleged shooter was "studying" previous hate attacks and shootings, the official said.The revelation comes a day after a gunman killed 10 people and wounded three others at the Tops Friendly Markets store in a predominantly Black neighborhood in Buffalo. Eleven of the people who were shot were Black, officials said. The victims range in age from 20 to 86, police said. Buffalo police identified all 13 victims Sunday. Among them were a former police officer who tried to stop the shooter, the octogenarian mother of the city's former fire commissioner and a long-term substitute teacher.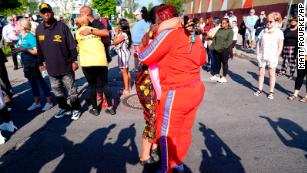 A 'hero' security guard, a former fire official's mother and a teacher were among the 10 people killed at a Buffalo grocery storeTwo people remain hospitalized in stable condition, a spokesman for Erie County Medical Center said Saturday night.
For more on this story visit