According to Hype, Balenciaga has issued an official apology after coming under fire for a campaign it recently released for the holiday season.
Highlighting its Objects line featuring logo-heavy accessories, the images were modeled by children, who were seen holding toys dressed in bondage and BDSM gear. These teddy bears were featured in the brand's Summer 2023 runway in October along with models wearing makeup depicting bruising.
In addition to the props used in the shoot, social media users were quick to point out additional details in the campaign, which was shot by National Geographic photographer Gabriele Galimberti, known for shooting kids and his "Toy Stories" project. A viral tweet noted that the photoshoot was "interesting" and "included a very purposely poorly hidden court document about 'virtual child porn.'" Upon zooming in, fans found that the papers used as props for the shoot were from the 2008 Supreme Court case, United States v. Williams, which focused on child sexual abuse. The viral tweet also pointed out that Balenciaga took down the controversial campaign due to the backlash. However, those familiar with the fashion brand will know that it wipes its Instagram account on a regular basis for each campaign launch.
The campaign has been taken down on all of Balenciaga's platforms since. The house took to Instagram Stories to issue an official apology:
"We sincerely apologize for any offense our holiday campaign may have caused. Our plush bear bags should not have been featured with children in this campaign. We have immediately removed the campaign from all platforms. We apologize for displaying unsettling documents in our campaign. We take this matter very seriously and are taking legal action against the parties responsible for creating the set and including unapproved items for our Spring 23 campaign photoshoot. We strongly condemn abuse of children in any form. We stand for children safety and well-being."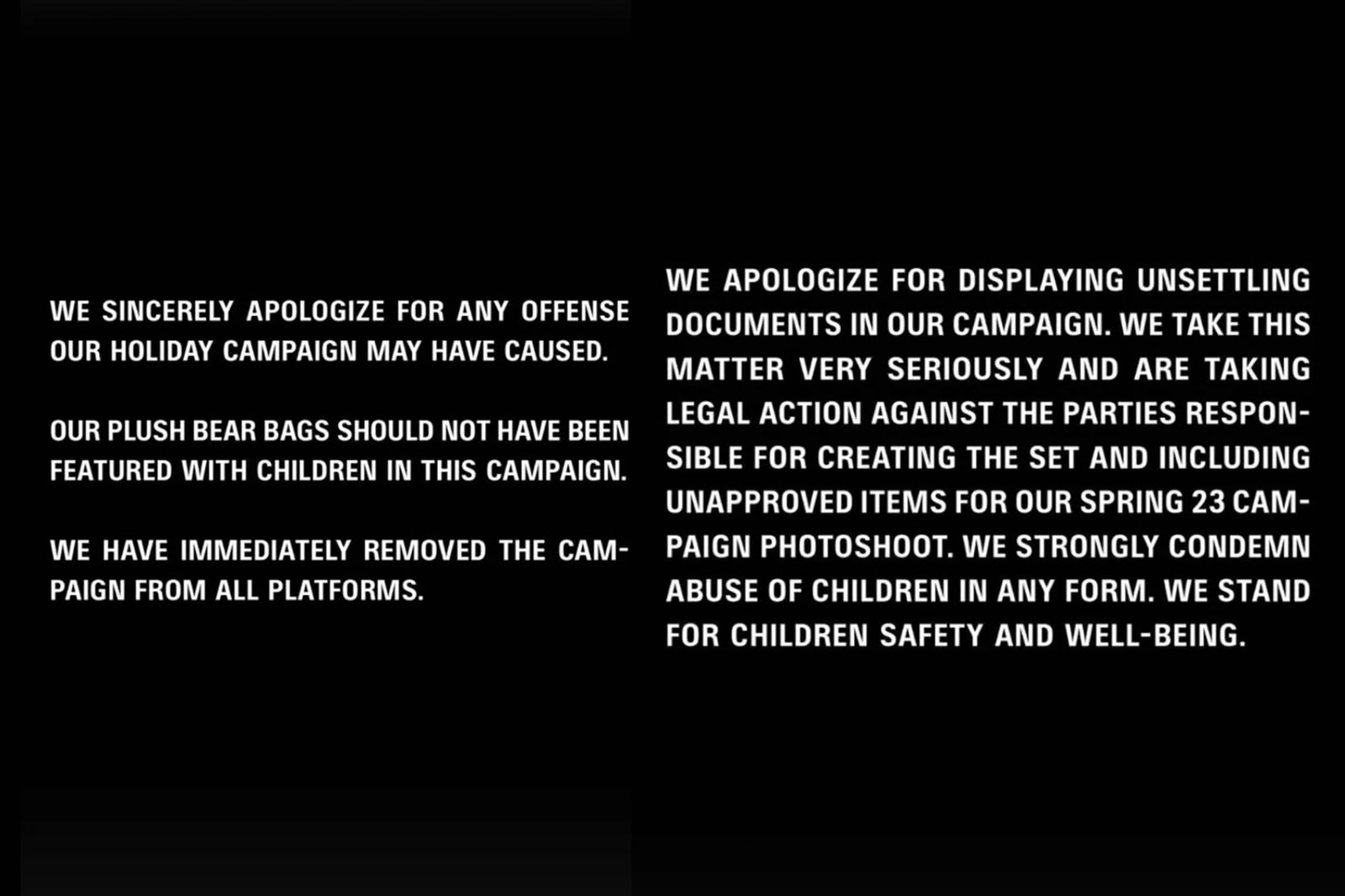 @Balenciaga
Fans have been taking to social media to comment on the matter, with some noting that it's not unusual for Balenciaga to clear its Instagram feed. Others are stating that the brand probably missed the court documents used for the shoot, as no fashion brand would want to be involved in such negative publicity. Some noted that there is "no way" the brand missed props with so many lines of approvals needed before a campaign launches.
"Poor set design? I wouldn't be so mild. Did that specific document just happen to appear there by sheer coincidence? Someone put it there very deliberately and they need to be made accountable for. It's good that legal action has been taken. Stuff like this is extremely serious. But also, did no one at Balenciaga, out of the many many people who saw the images before they were published, thought that a child holding a fetishized toy thought it was inappropriate? They need to do better," a user commented. Another noted, "I personally found the papers very disturbing… This is such a specific docket of such a specific case. Hard to believe this was a coincidence."